4th Annual Titan Machinery Customer Appreciation Event
December 6th - 11th, 2021
Take advantage of our best agricultural and construction equipment parts discounts of the year
It's that time of year again - our annual customer appreciation events! We have worked with our suppliers including CNHi, WCCO, Fleetguard, Tatu, CAMSO and more to secure the largest pre-sell discounts of the year on parts and attachments. Take advantage of discounts up to 35% off regular prices over an entire week period. This is our way of saying thank you to our customers who have weathered great difficulties and obstacles to get the crops in the bins and the jobsite work completed.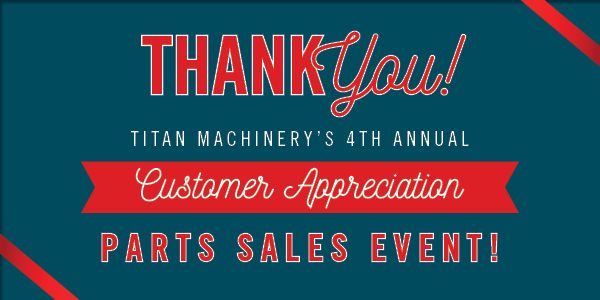 Due to the continuing threat of infection of COVID-19 posing a greater risk in some parts of our footprint, some of our dealerships have opted not to have an official meal or meeting. Other stores will host a formal event at the store during the week of the Customer Appreciation Event. The schedule and full details for in-person Titan store events can be seen in our events section here!
In all cases, all Titan Machinery dealerships will be offering parts specials during the entire week of the Customer Appreciation Event.

















All specials are good at all Titan locations that carry that line or item during the Titan Machinery Customer Appreciation Parts Sales Event (December 6-11, 2021) unless otherwise noted. Contact your local Titan Machinery dealership for complete details or use our convenient online parts request form to make an inquiry.