TITAN ADVANTAGE USED POWERTRAIN WARRANTY
Used Equipment Warranty Coverage Included with Most Used Equipment Purchases from Titan Machinery
Our goal at Titan Machinery is to provide our customers peace of mind when purchasing preowned equipment. Preowned equipment offers significant value by allowing customers to upgrade their equipment for a much lower price than the equivalent new unit price. However we know some customers are hesitant to purchasing a used machine with prior wear. That's why our exclusive Titan Advantage Used Powertrain Warranty is included on all qualifying late-model, preowned farm and construction equipment we offer for sale. Titan Machinery gives our customers the confidence to purchase the equipment that best fits their operation and budget, regardless of whether it's new or used.
Industry-Exclusive Coverage
Powertrain coverage (engine and drivetrain including axles, final drives, transmissions, torque converters, etc.)
$500 deductible, per occurrence
500 hours or 12 months, whichever comes first
Repairs covered by the warranty can be made at any US Case Construction or Case IH dealer (also Case IH and Case CE dealers in Manitoba and Saskatchewan)
Remaining warranty is transferable to new owner
Covered Equipment*
Titan Advantage Used Powertrain Warranty is included on most pre-owned Titan Machinery inventory that meet the following qualifications:
Less than 7 years old
Fewer than 5,000 hours on Agricultural Equipment
Fewer than 7,000 hours on Construction Equipment
All makes and models
Qualifying units must be self-propelled and be equipped with an hour meter. Other exclusions include forestry equipment, cranes, generators, light towers, and equipment that's used in a severe application such as scrap or demolition.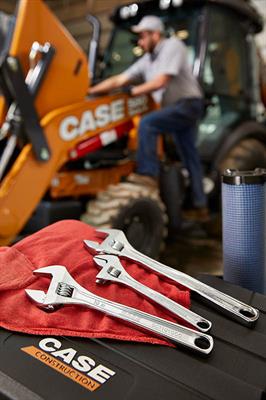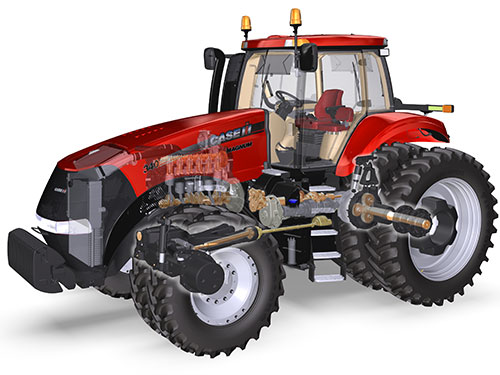 Buy With Confidence
With a Titan Advantage Used Powertrain Warranty, the most expensive, critical components of your purchase are covered with a warranty. Coverage includes:
Most engine components.

Examples: block, cylinder liners, crankshaft, cylinder heads, valve covers, cam timing gears, pumps, injectors, turbo, rods and bearings, etc.

Transmission components.

Examples: wet brakes/clutches, axle lube pump, clutch/differential housings, input/output shafts/seals, planetary final drives, torque converters, main transmission components (case, charge pump, gears, bearings, shafts), etc.

Driveline components.

Examples: axle housing/shaft, CV joints, drive shaft, final drive housing, MFWD clutch, pinion/ring gear, housing, sealed bearings, universal joints, etc.

Combine-specific powertrain components.

Examples: Engine-mounted PTO, header drive, rotor drive
At Titan Machinery, we're confident in the equipment that we offer for sale. We have a rigorous inspection program and a professional staff of service technicians that follow extensive check-lists for the equipment we trade-in. We offer the Titan Advantage Powertrain Warranty on qualifying equipment because we're confident of our inspection process and want to give you the peace of mind that your purchase is ready to go to work for you.
You can buy used equipment from many different sources, but only Titan Machinery offers a standard warranty for a wide selection of inventory. Contact one of our equipment sales professionals or fill out the form on this page to find out how you can get a great deal on your next used equipment purchase AND have the peace of mind that comes with a powertrain warranty.

*Not all units qualify for Titan Advantage Used Powertrain Warranty. Exclusions include those that are noted on this page and others might apply. Titan Machinery reserves the right to exclude units from the program. At time of sale, Titan Advantage Used Powertrain Warranty coverage will be noted explicitly on the sales order. Any machine that is sold without coverage explicitly included on the sales order does not include Titan Advantage Used Powertrain Warranty. Consult your Titan Machinery sales representative for confirmation of coverage for units that you are interested in.