Single Guidance and Precision Data Solution for Mixed Fleet Equipment Owners
Learning new precision technology and guidance systems can be challenging and stressful. Which is why Titan Machinery offers Reichhardt's GREEN FIT precision system that allows operators currently using John Deere StarFire™ receivers and GreenStar™ displays to use the same guidance system in other brands of equipment such as Case IH, New Holland, and more. GREEN FIT gives you the flexibility of using a single guidance and data storage system across a mixed fleet of equipment.
Benefits of Reichhardt® GREEN FIT
AutoTrac™ guidance system functionality on a variety of equipment, including brands such as Case IH, New Holland, Kubota and more
Easy installation
Vehicle safety, warranty, and functionality all remain intact with the GREEN FIT system
Provides flexibility for you to choose the equipment and brand that works for you
Allows info upload/download from the John Deere cloud
Utilization of existing John Deere steering correction subscription
Continue right where you left off in the previous machine with your existing guidance lines
GREEN FIT utilizes the same monitor and globe guidance system from your John Deere equipment and allows it to sync with almost any popular brand of equipment so growers can continue out in the field right from where they left off. Listed out below are the requirements and new equipment that can be used with Reichhardt's GREEN FIT system.
Required John Deere Components:
StarFire™ Receiver 3000/6000
GreenStar™ Display 2630/4240/4640 with AutoTrac™ Activation
Qualifying Equipment:
Case Flagship AccuGuide Ready Combines
Case Magnum Tractors Pre-AFS Connect
Case Magnum Tractors AFS Connect
Case Steiger Tractors Model Year 2006-2015
Case Steiger Tractors AFS Connect
Kubota M7 Series Tractors
Kubota M8 Series Tractors
New Holland IntelliSteer Ready Combines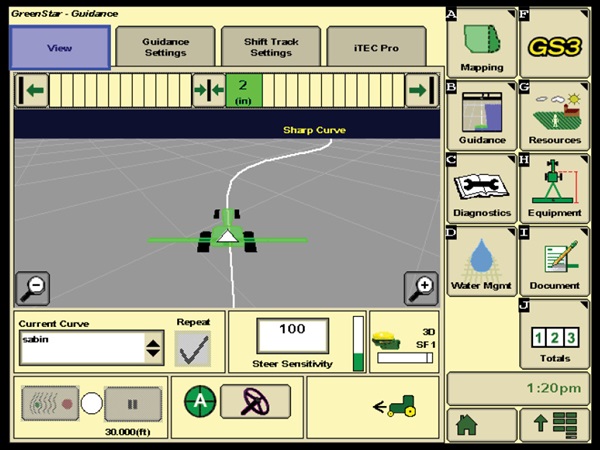 Interested in learning more? Simply fill out the form below and a precision expert from Titan Machinery will reach out to you with more information.