TITAN OUTLET
Titan Machinery recognizes the need to continually keep fresh inventory available to customers. That's why we continually evaluate and mark our aged inventory as Outlet Deals with low, wholesale pricing.
About Titan Machinery Outlet
Welcome to Titan Machinery's Outlet clearance center, our online showroom for our aged farm and construction equipment inventory that has been heavily marked down to liquidation pricing. The Titan Machinery Outlet clearance center offers customers an online showroom of all our clearance inventory complete with pictures and detailed specifications from across our entire 70+ store footprint. The equipment is advertised at our bottom-line best price. Browse Titan Machinery's Outlet inventory to find the lowest prices for a wide variety of agricultural equipment and construction equipment from the largest Case IH and Case Construction dealer in the world. We have made it easy and convenient for customers that value a great deal to browse and find equipment priced below cost for our entire 9-state footprint, all in one easy to browse collection online.
Alternative to Auction
Titan Machinery Outlet is a great alternative for auction buyers looking for a great deal. The farm and construction equipment in our Outlet pool has been inspected by Titan Machinery's professional service technicians. And unlike auctions, equipment purchased through our Outlet clearance center comes with a money-back guarantee*. Equipment finance options are available. Buying from Titan Machinery's Outlet center gives you the confidence that you are buying local trade-in equipment from a reputable, established dealer network. Why risk buying equipment on auctions where "buyer-beware" is the catchphrase and you can't be sure you know where a machine came from or what it's history is? Shopping Titan Machinery's Outlet inventory is convenient and easy – and comes with the peace of mind that buying from a dealer network that backs up the purchase with a guarantee brings.
Knowledgeable Staff Ready to Help You
Our friendly sales staff of equipment experts are standing by to answer your questions on the equipment you are interested in and how it's equipped. They are industry professionals that understand farm and construction equipment and are trained to get you the information you need to make an informed buying decision. Equally important, our staff is experienced with the logistics of moving equipment across the country and even all over the world.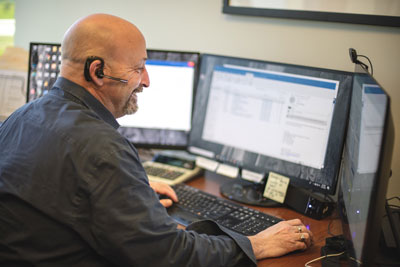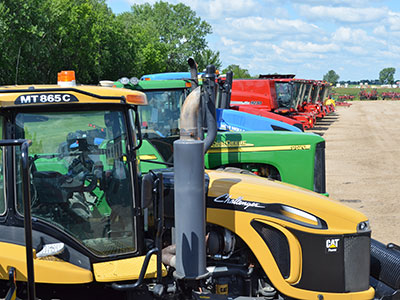 We Welcome Your Equipment Inquiries
Our industry veterans are a phone call away – just call 877-886-7010 and your call will be answered by one of our dedicated Outlet equipment representatives. Or fill out the form on this page to connect by email or to request a follow-up call from a Titan Machinery Outlet representative. Lastly, you can click on individual Titan Machinery Outlet listings and use the "Contact Me" or "Ask a Question" buttons to request more information about a specific piece of equipment. We make it easy for you to get the answers and information you need to help you make the right purchasing decision.
*Units over $50,000 | 40 hours – (Major Failure under normal operating condition (engine/hyd/trans), once verified, equipment Only costs refunded, all shipping to and from is customer responsibility.
*Units under $50,000 |15 hours – (Major Failure under normal operating condition (engine/hyd/transmission), once verified, equipment Only costs refunded, all shipping to and from is customer responsibility.