WOODS BATWING CUTTERS, ROTARY MOWERS, AND ATTACHMENTS

Since creating their first tractor-mounted rotary cutter in 1946, Woods has built a reputation for manufacturing high quality, durable attachments for a wide variety of applications. Whether mowing roadsides, maintaining pastures and waterways, shredding crop residue, or managing hunting ground - Woods attachments provide you an advantage in any field. Woods attachments can be attached to a wide variety of tractors, from sub-compact to large row-crop tractors, and are designed to provide years of reliable service in the toughest conditions.

As one of the largest and most knowledgeable dealers of Woods equipment in North America, Titan Machinery carries a large inventory of Woods batwing cutters, rotary mowers, snow blowers, and more. Whatever your application needs may be, we are ready to help you find the right Woods attachment to get the job done well.
Woods offers a complete line of durable batwing cutters with cutting widths from 10.5 to 20 feet. Woods batwing cutters are built with features including heavy-duty gear boxes and skid shoes, the Woods Exclusive EZ-Change Blade System, and a high-strength steel welded deck complete with reinforced edges and baffles created to cut and distribute debris evenly.

Designed to handle brush and small trees up to 4 inches in diameter, Woods batwing cutters can be paired with tractors from 45-300 horsepower, depending upon model, and are powered by a 540RPM PTO drive. They are perfect for a variety of tasks and chores, including maintaining pastures or CRP, clearing brush or weeds from roadsides or hunting property, managing heavy crop residue, or any other application that requires large-scale chopping and sizing of vegetation.
The Woods Cut Above 10-Year Gearbox Warranty Program also provides extra peace of mind that Woods batwing cutters were confidently built for season-after-season performance.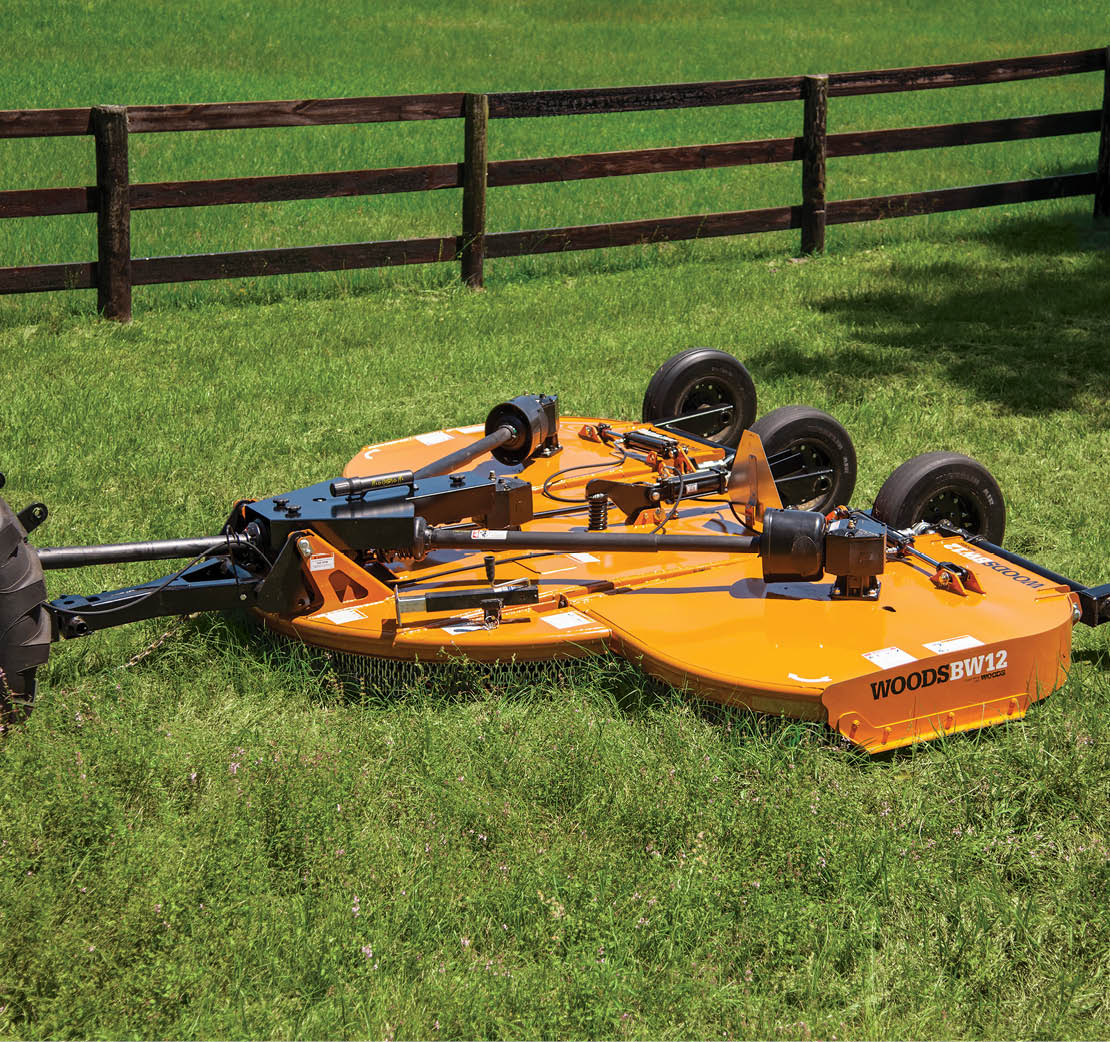 WOODS DUAL-SPINDLE ROTARY CUTTERS
For smaller scale projects, Woods offers a full-line of rigid, non-folding pull-type rotary cutters. For medium-scale projects, Woods offers a line of hard-working dual-spindle rotary cutters at either 8 or 10 feet cutting widths. Options include hydraulic offset for working under overhanging trees (perfect for orchard applications) and HD models that offer the Woods Cut Above 10-Year Gearbox Warranty Program (a 6-year gearbox warranty applies to standard models). Woods dual-spindle rotary mowers are powered by a 540RPM PTO drive and minimum horsepower requirements start as low as 35hp, dependent upon model.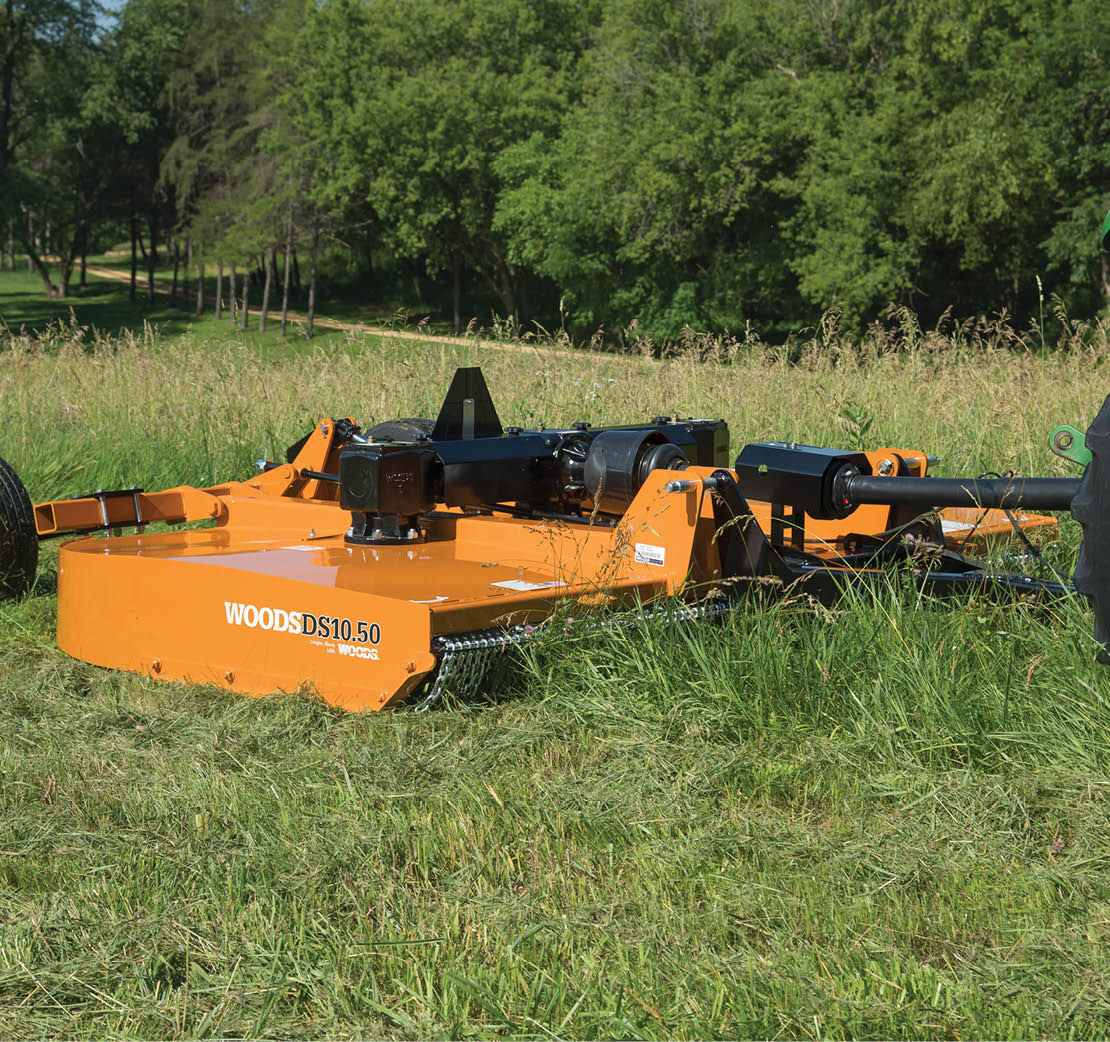 WOODS SINGLE-SPINDLE ROTARY CUTTERS
Woods single-spindle rotary cutters are a great option for customers looking for a simple, productive, and durable rotary cutter. With cutting widths from 48 inches to 84 inches and horsepower requirements starting at 15hp, ranging to over 200hp for larger models - these single-spindle cutters are perfect for a wide range of applications. Dependent upon model, these cutters can handle brush and saplings up to 3 inches in diameter. Titan Machinery stocks a large selection of Woods single-spindle rotary cutters, in a variety of working widths, to match a wide-range of tractor and application requirements and meet your needs.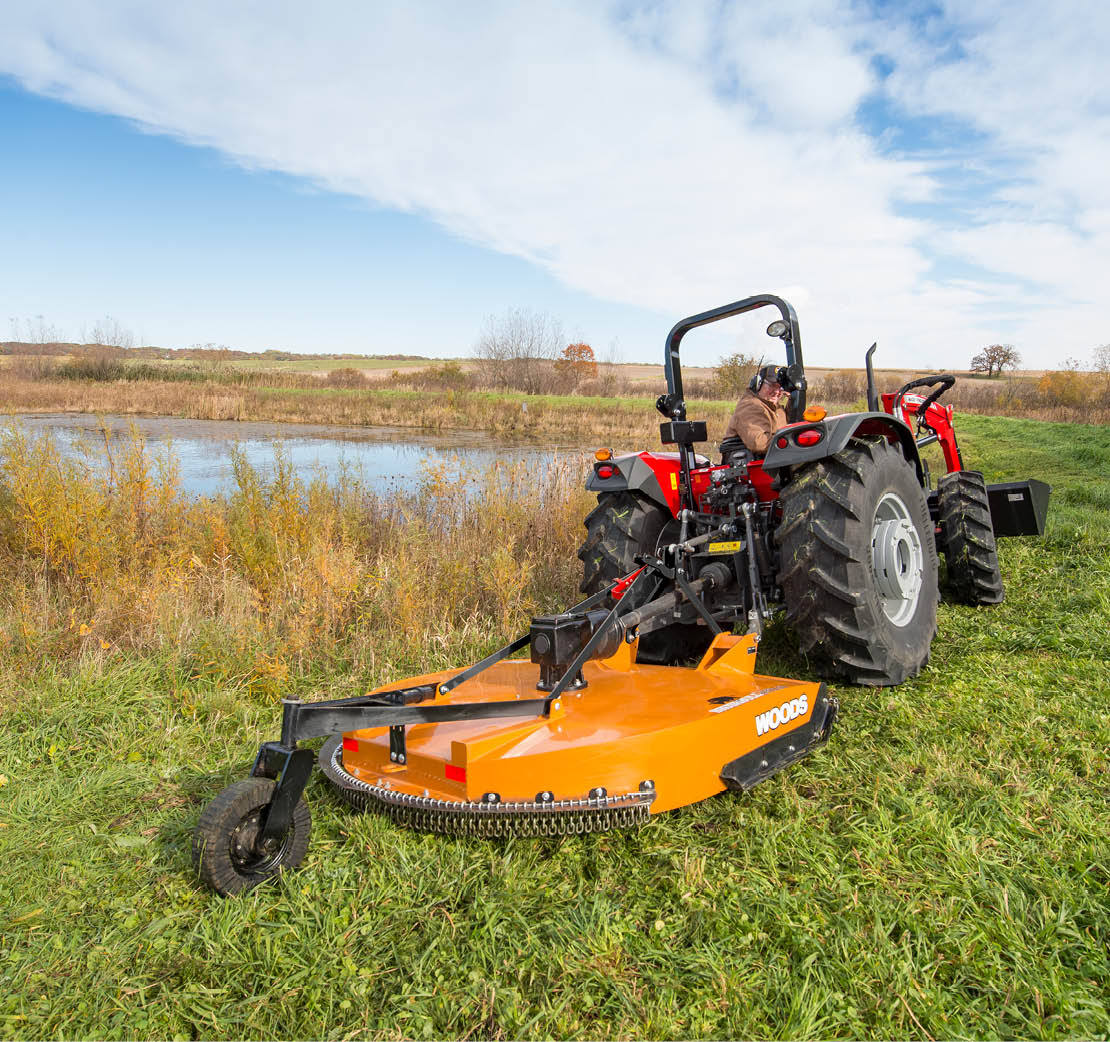 Shop current Woods inventory at Titan Machinery, or contact us to place an order for a specific piece you are looking for!