Camso Tracks
Get the best value in replacement tracks
CAMSO tracks are engineered for long wear life and to withstand challenging jobsite conditions that can destroy other brands of tracks.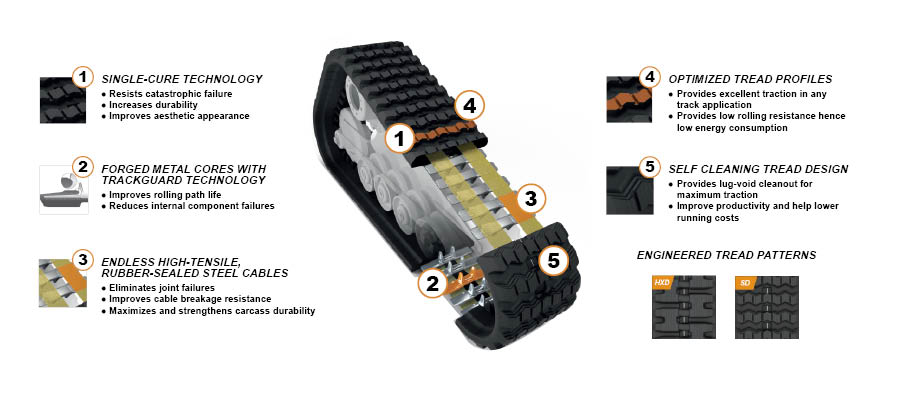 The longer replacement cycle and more robust design of CAMSO tracks lowers your operating costs and saves you money by keeping your equipment on the jobsite working longer with less downtime and service costs.
DURABILITY
CAMSO reduces the total cost of track replacements over the lifetime of the machine with high quality rubber compounds.

RELIABILITY
CAMSO technology solves problems like detracking and cable breakage to reduce the overall frequency of downtime over the lifetime of a machine.

WARRANTY
We're so confident in the durability of our tracks that we're offering the best warranty coverage in the business - up to 24 months/2000 hours for CTL tracks, and a whopping 42 months/3500 hours on mini excavator tracks. Warranty coverage is not prorated. In the case of a warrantable failure, the track will be fully replaced regardless of the remaining tread life. No other manufacturer offers this kind of length and quality of warranty coverage.


COMPLETE TRACK LINE
We offer standard-duty and heavy-duty tracks for mini-excavators and compact track loaders including ASV, Bobcat, Case, Cat, Gehl, John Deere, Kubota, Mustang, New Holland, Takeuchi, and more. Our track experts can help you quickly find the right track for your application and budget. Click the button below to contact Titan Machinery for more information.