Precision Planting Products
From downforce control to seed delivery, Precision Planting has an application that can help any operation increase productivity, efficiency, and accuracy.
Monitoring and Measurment
Improved planting performance starts with accurate measurements and precise control over inputs. The 20|20 monitor from Precision Farming displays all major planter inputs including average seed spacing, seed depth, skips, down pressure, fertilizer application rates, soil moisture, soil organic matter, and more. Users can control each of these things on a single, customizable monitor screen that can be used to control rates of seed and fertilizer as well as downforce pressure. The 20|20 monitor uses input from Precision's SmartFirmer sensor which measures key information from the seed furrow including soil moisture, soil temperature, in-furrow crop residue and organic matter.
SmartFirmer provides information on any irregularities along the furrow which can be used to make corrections to row units to boost performance. The 20|20 monitor also is programmed to display row-by-row liquid fertilizer application rates through the FlowSense system, alerting operators of any row-to-row variability in fertilizer application that is occurring.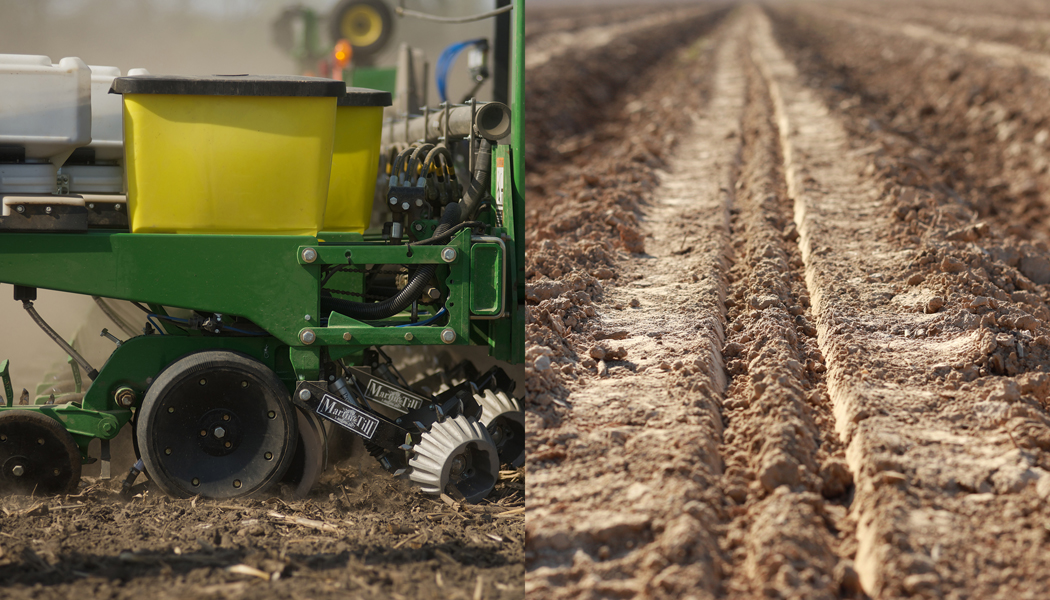 DeltaForce compensates for variable soil conditions and helps counteract row bounce, which is especially important at increasing seeding speeds. AirForce is a more simplified downforce control system from Precision which uses a planter-mounted air compressor and row-mounted air bags to maintain an equal amount of air compressor and row-mounted air bags to maintain an equal amount of air pressure on each row. This system is effective at automatically adapting to large changes in the field environment such as slope or soil types, but does not provide the row-to-row downforce control that is achievable with DeltaForce. SeederForce is the downforce control system by Precision Farming that was developed for air seeders and air drills. This system also uses load cells and hydraulic cylinders to automatically control the downforce for a section or individual air seeder row unit, depending upon configuration.
vSet. The vSet seed meter utilizes a flat disk combined with a singulator that rides on the edge of the disk and knocks off extra seeds to achieve singulation accuracy in corn and soybeans of over 99% without adjustments to vacuum, disk, or singulator. The flat disc design eliminates variability in seed spacing due to irregularities in seed shape or size. It's simple to use and can be upgraded with the addition of other Precision Planting meter technology.
vDrive. The vDrive system is a maintenance-free electric drive system that replaces the mechanical chain or cable drive system on your planter.
vSelect. The vSelect application allows multi-hybrid planting system through a dual-vSet meter system that automatically shifts to different hybrids as you cross into different areas of your field.
mSet.
The mSet is a multi-hybrid planting system that utilizes a seed selector and a single vSet meter with a split hopper to automatically plant two different hybrids in the field according to varying soil conditions.
eSet. The eSet is a meter upgrade specific for John Deere planters that utilizes flat discs to eliminate skips and doubles to produce even stands without having to make time-consuming adjustments to the meter or vacuum levels as you plant.
PrecisionMeter. If you have a finger planter system, upgrade it with PrecisionMeter solutions from Precision Planting to minimizes skips and doubles. Options include SureFire seed belts, the SkipStop metal cover, the PopulationMax backing plate, Adjustable Brush and Precision Fingers - all components that have been designed through extensive testing to do a better job of singulating a wide range of seed sizes and shapes.
Seed tube bounce as seeding speeds increase leads to uneven spacing and incorrect placement of the seed in the furrow. Precision Seeding's SpeedTube eliminates both problems by utilizing a flighted belt to deliver seeds from the meter to the seed trench in a controlled manner regardless of seeding speed. This system allows growers to double planting speeds without suffering from seed spacing or emergence issues. SpeedTube used in conjunction with other Precision Seeding systems allows farmers to increase the acres planted in a day without adding another planter or moving to a larger planter. Bullseye seed tubes reduce inconsistent seed spacing with its recessed sensor eye and tungsten carbide tips. While Bullseye seed tubes will not completely eliminate seed bounce and seed placement issues associated with high-speed planting, it does provide better performance at normal seeding speeds than regular seed tubes at a lower cost than SpeedTube.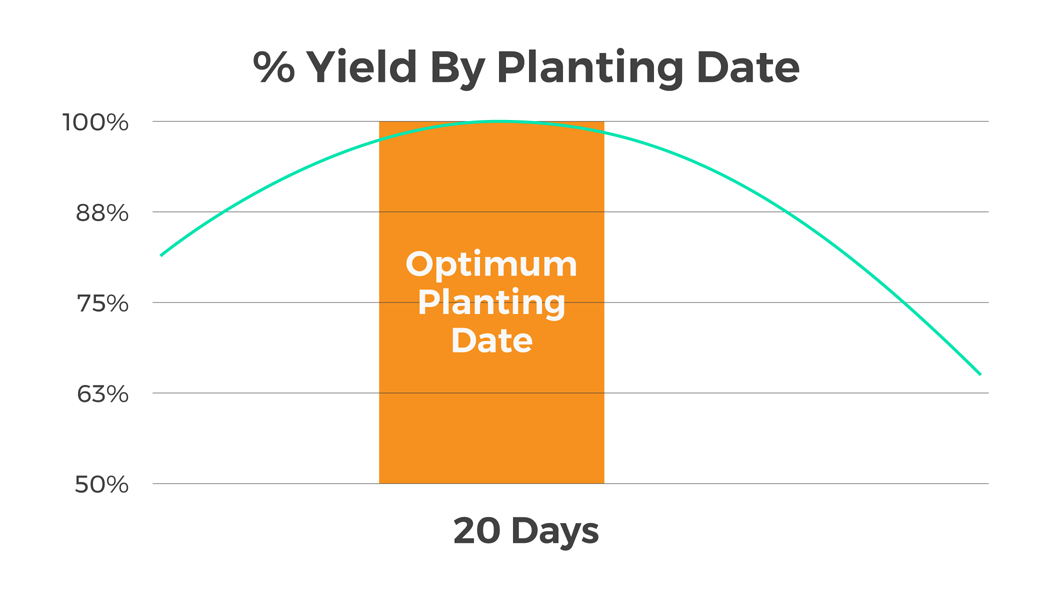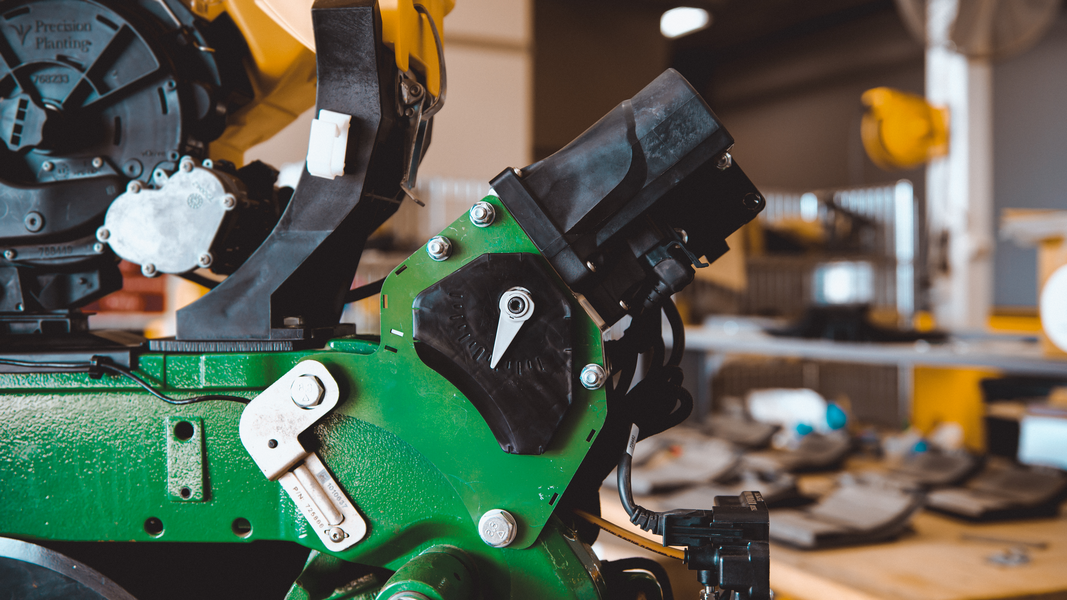 Ready Row Unit. The Ready Row Unit allows growers to discard existing row units and replace them with a complete row unit system while retaining the current planter toolbar.
FurrowForce. The FurrowForce system optimized closing system that can be used by itself or in conjunction with DeltaForce and the 20|20 monitor to provide even more responsiveness to changing field conditions
SmartDepth. This application provides easy, precise seeding depth changes from the cab.
CleanSweep. CleanSweep is a Precision Planting system that turns the time consuming (often avoided) job of adjusting row cleaner depth by hand into an easy adjustment from the cab. It also ensures that proper adjustments are more likely to be made.
Firmer. The Keeton Seed Firmer helps to push the seed to the bottom of the furrow to increase the seed-to-soil contact.
Fertilizer placement is another key factor in maximizing profitability. Precision Planting offers an integrated liquid fertilizer placement system, Conceal, which places liquid fertilizer to one or both sides of the seed furrow and slightly below. This allows optimal availability of the nutrients where crops have the easiest access and can reduce the amount
of fertilizer needed for a given yield potential by up to 30% over broadcast fertilizer applications. FurrowJet is a Phosphorous starter fertilizer application system that distributes bands of fertilizer on and around the seed for optimum seedling development.