UPTIME MAINTENANCE – CONSTRUCTION EQUIPMENT
When the weather starts turning and the season's about to start, the last thing you want to worry about is remembering if you checked for this, or made the repair on that. Keep your peace of mind knowing that your equipment has been thoroughly combed through - schedule an off-season multi-point inspection by our factory-trained service professionals at your local Titan Machinery construction location today!
HERE ARE 5 UPTIME SERVICE FACTS...
Knowledgeable Service. Our technicians are Case-certified and experienced. They utilize comprehensive inspection checklists and years of experience to identify potential problems that might be missed if an uncertified mechanic does the inspection.
Increased Productivity. Well-maintained machines are more efficient - resulting in more years of service life for their equipment fleet.
Problem Prevention. Detecting a problem during the off-season can prevent larger and more expensive repairs when you need your equipment most.
Minimize Downtime. In-season break-downs can shut down a jobsite. Off-season inspections help prevent costly equipment downtime during the season.
Peace of Mind. Don't go into the spring worried that your equipment might fail at the worst possible time. An Uptime inspection will give you confidence that your fleet is ready for work and allow you to focus on getting the job done.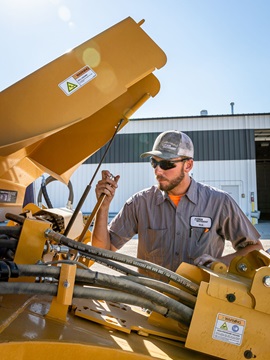 ---
PRICING FOR YOUR UPTIME SERVICE:
Wheel Loaders
88 Point Inspection..........$599
---
Loader Backhoes
88 Point Inspection..........$499
---
Excavators
80 Point Inspection..........$599
---
Skid Steers/Compact Track Loaders
44 Point Inspection..........$349
---
Mini-Excavators
80 Point Inspection..........$499
---
Trenchers
82 Point Inspection..........$499
---
Crawlers/Graders
88 Point Inspection..........$599
---
Telescopic Handlers
86 Point Inspection..........$499
---
Boom Lifts
Inspection.........................$300
---
Scissor Lifts
Electric.................................$199
Electric (Fleet)......................$175
RT Scissor.............................$199
---
Compaction
88 Point Inspection..........$499
---
Titan Machinery Uptime Commitment
All machines that go through our multi-point Uptime inspection and have 100% of the recommendations completed by Titan Machinery's service technicians will receive for the next season of use:

Priority in-season support

No service call fees*

Complete machine multi-point inspection

OEM certified technicians and genuine OEM parts

1 year parts warranty for genuine CNH parts installed
No interest for 90 days on CNH Productivity Plus account**
---
We service all brands and types of construction equipment, so stop by your local Titan CE Dealership to hear about Uptime Service specials.
---
Uptime prices cover inspections only. Additional parts and labor are extra. See participating Titan Location for more details.
*Service call fees may apply if failure is determined to be caused by damage occurring outside of the normal machine operating conditions.
**Interest will be charged to your account from the end of the promotional period if the promotional balance is not paid in full by the end of the period. Valid only at participating dealerships located in the United States. Offer to end at any time. With credit approval for qualifying purchases on the CNH Industrial Capital Productivity Plus Account. After the promotional period, the standard variable APR for purchases will apply except when your account is at the default APR. See your billing statement and account agreement for specific APR information and additional details. Minimum payments required. Offer valid for accounts in good standing; is subject to change without notice; see dealer for details. May not be combined with any other credit promotion offer. Purchase must be made in a single transaction and requires minimum $750 purchase to qualify.