Titan Machinery's Diesel Mechanic Apprenticeship
The Service Technician Apprenticeship program is designed for individuals who wish to become a Diesel Mechanic through full-time on-the-job training. Titan Machinery offers a Federally regulated National Standards Program through the Department of Labor allowing graduates to receive a national, industry-­recognized credential. Become a Titan in the industry and begin your career with a dealership that invests in YOU.
Program Includes: 2-2 ½ Years / 4500 On-The-Job Training Hours / 325 hours of related instruction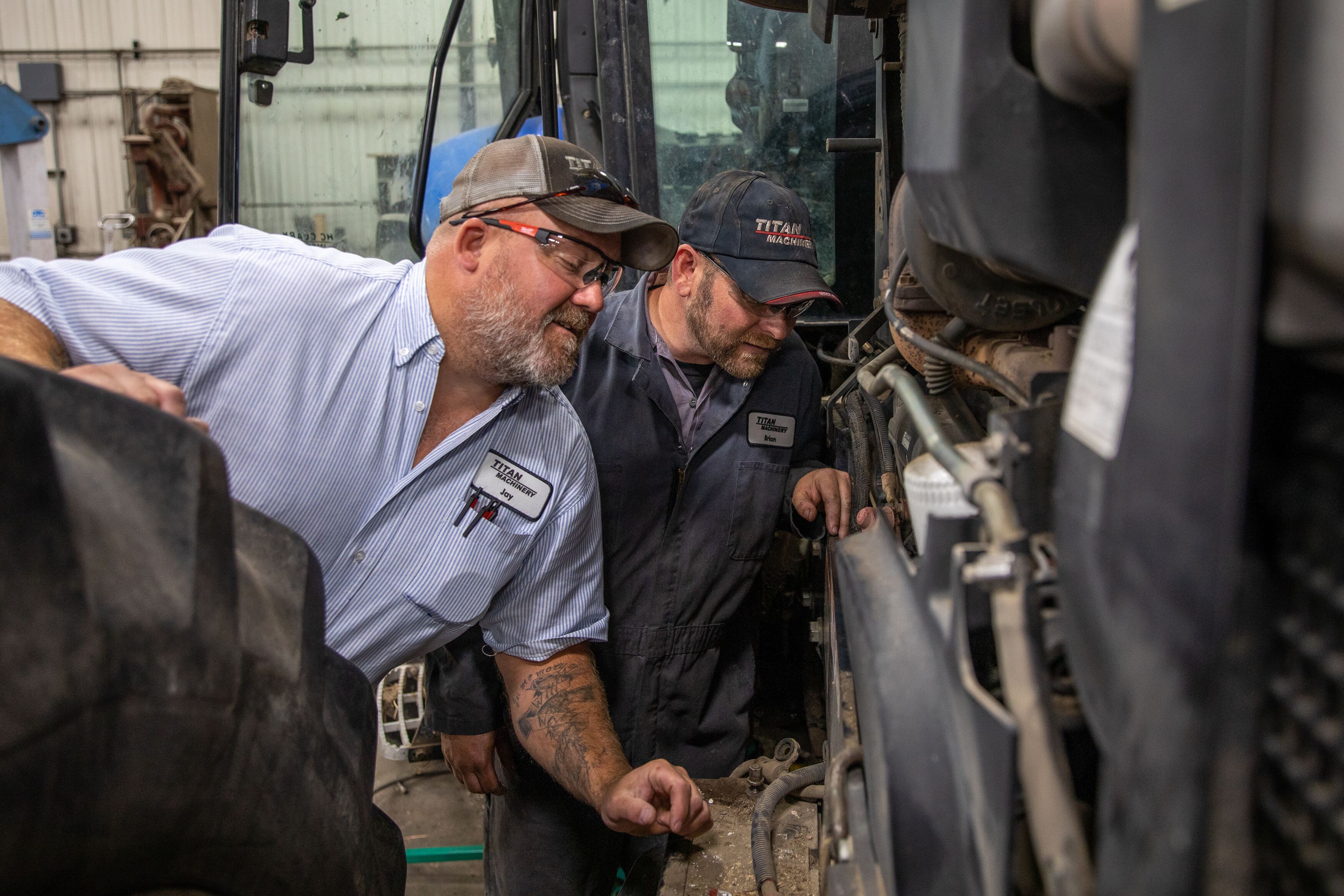 Eligibility
Minimum Age: 18 Years
Minimum Education: GED or High School Diploma
Physical: Must be able to perform the essential functions of the job with or without a reasonable accommodation
Must pass a pre-employment drug test
Must be legal to work in the USA
Locations
All Titan locations are eligible to host an apprentice. Location preferences are indicated in the application process.
Click below to view all our locations:
Hours & Pay
Apprentices are full-time employees who will work 40+ hours a week.
These hours will consist of:

Instructional Training
On-The-Job Training

Apprentices receive an hourly wage that allows for incremental increases throughout the program.
Benefit Eligibility
Students are eligible for all full-time employee benefits throughout the program. A full list of benefits, as well as our application process steps, can be found below.
Program Start Times
Titan Machinery begins apprenticeship cohorts in January and July of each year. Interested individuals should apply for the cohort that works best for them to begin the program.
Questions?
Reach out to our Talent Team with any questions at [email protected] and we will get back to you as soon as possible. We look forward to connecting!
Below outlines the steps that you can expect once you apply. If you have questions, please reach out to our talent team at [email protected]


Health
Health Insurance - Titan Pays the Premium for Single Coverage
Dental Insurance - Titan Pays the Premium for Single Coverage
Vision Insurance
HSA (Health Savings Account) - up to $1,500 tax-free each year, paid to your account by Titan Machinery

Titan Paid Long-Term Disability Insurance
Titan Paid Basic Life/AD&D Insurance
Optional Insurance Products: Life/AD&D Insurance, Short Term Disability, Accident & Critical Illness
FSA (Flexible Spending Account) for eligible expenses and dependent care costs
Work
Tools & Box Provided - Retailing at $20,000+
Prescription Safety Glasses/Boot Reimbursement
Safety Gloves & Hearing Protection Provided
Uniforms with Laundering - 100% Paid by Titan
Employee Discounts at Titan Machinery, Vehicle Discount, Enterprise Car Rental, Hertz Car Rental, Choice Hotels, and Profile Plan
Ongoing Professional Training Opportunities
Tuition Assistance for Educational & Professional Growth
Life
Paid Time Off starts accruing on your First Day of Full-time employment
7 Paid Holidays
Competitive Wages
401(k) with company matching on your FIRST DAY of employment
Identity Theft Protection
Titan Paid Employee Assistance Program (free Counseling, Legal Advice, and more)
Titan Paid Bereavement Leave
Paid Time for Team Titan Volunteer Activities in your Community
Volunteer Firefighter/EMT Paid Time Off
TITAN MACHINERY IS AN EQUAL OPPORTUNITY/AFFIRMATIVE ACTION EMPLOYER
DIVERSITY & INCLUSION :
Titan Machinery is an Equal Opportunity / Affirmative Action employer: Women, Minorities, the Disabled and Veterans are encouraged to apply.
APPLICANTS WITH DISABILITIES :
If you are interested in viewing Titan Machinery's Affirmative Action Plans or have any questions, please contact the Equal Employment Opportunity Officer:
Jason Anderson, Vice President of Human Resources
644 East Beaton Drive, West Fargo, ND, 58078
701-356-0130
When making your request, please indicate if you are unable to visit the location listed above, and we will make arrangements for you to view the plans at an alternative location.