Titan Takeover
The goal of Titan Takeover is for Team Titan to connect with students, educators, and community members. We will share information on our exciting programs and career opportunities available for individuals right in their hometown. During a takeover, students will meet local members of Team Titan, learn about careers, and participate in engaging activities. Our Fall 2022 takeover tour includes 14 stops across 5 states. Get ready to takeover the equipment industry with Titan Machinery!
Would you like to nominate a school for a future Titan Takeover? Click the button below to get started!

Program Details:
Eligibility: All schools within a 100-mile radius of a Titan Machinery or Heartland Ag Systems location is eligible for nomination.
Time Frame: Each visit can vary; specific plans will be made between the Titan Talent Team and the teacher.
Deadlines/Restrictions: There are no restrictions on when or how many schools or organizations you can nominate, so nominate early and often!
Feedback: Each teacher/school will be sent a survey following the visit, please tell us what you liked and what can be improved for future visits!
Questions: If you have any questions or would like more information, please contact our Talent Team by email or by phone at 701-356-0130.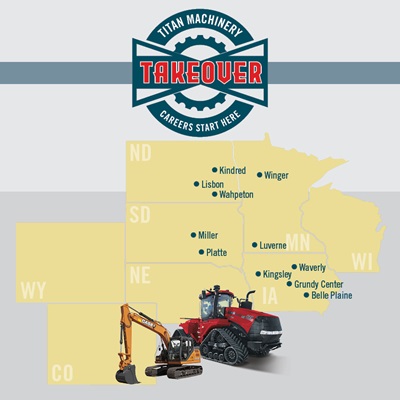 Fall 2022 Titan Takeovers
Wahpeton High School
September 1, 2022
Lisbon High School
September 6, 2022
Kindred High School
September 9, 2022
Win-E Mac (Winger) High School
September 12, 2022
Kingsley High School
September 13, 2022
Waverly High School
October 10, 2022
---
TITAN MACHINERY IS AN EQUAL OPPORTUNITY/AFFIRMATIVE ACTION EMPLOYER
DIVERSITY & INCLUSION:
Titan Machinery is an Equal Opportunity / Affirmative Action employer: Women, Minorities, the Disabled and Veterans are encouraged to apply.
APPLICANTS WITH DISABILITIES:
If you are interested in viewing Titan Machinery's Affirmative Action Plans or have any questions, please contact the Equal Employment Opportunity Officer:
Jason Anderson, Vice President of Human Resources
644 East Beaton Drive, West Fargo, ND, 58078
701-356-0130
When making your request, please indicate if you are unable to visit the location listed above, and we will make arrangements for you to view the plans at an alternative location.