Compaction Equipment / DV36D
---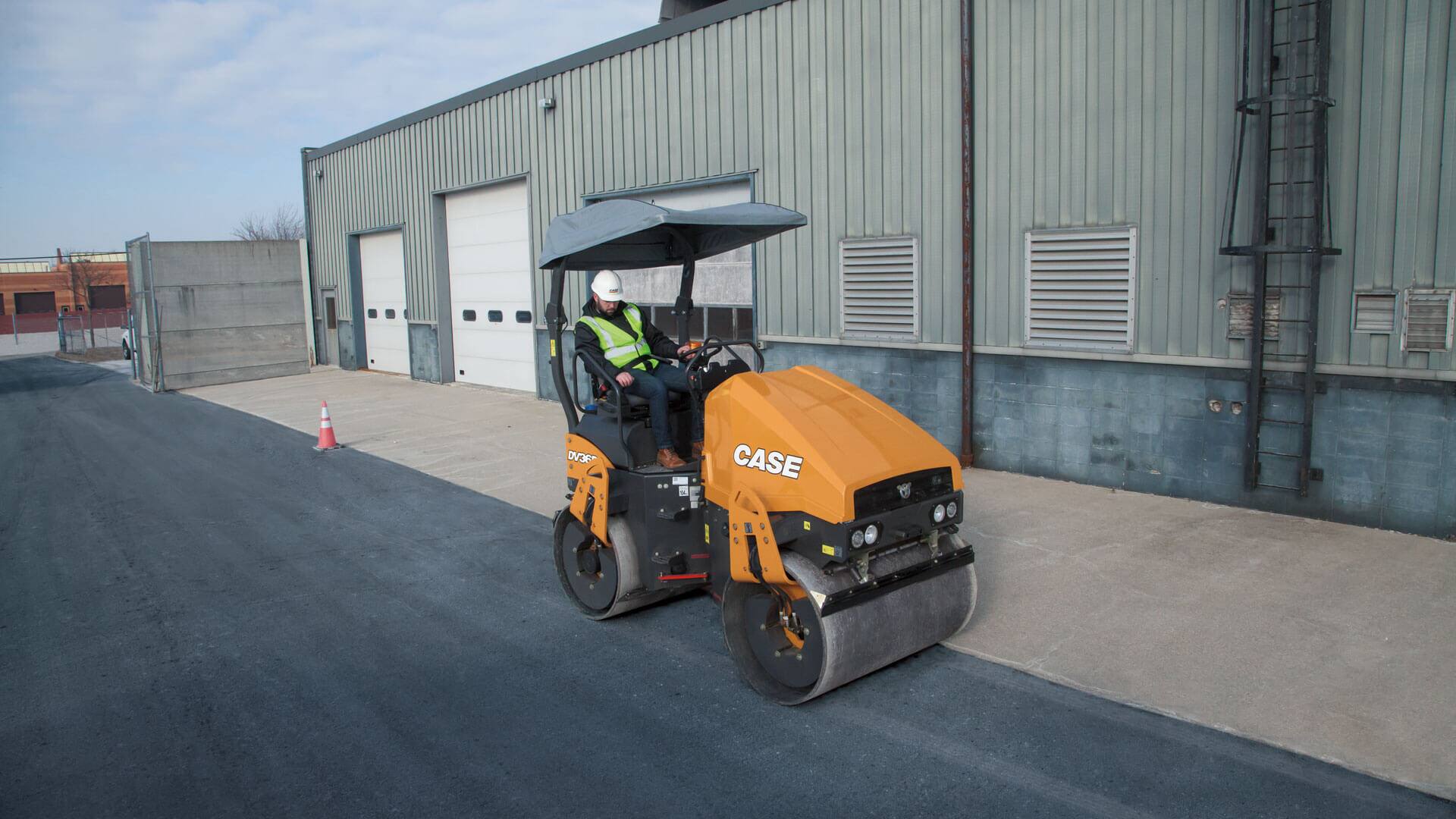 Overview
The DV36D combines compact size with excellent maneuverability and outstanding visibility making it ideal for residential and commercial applications with tight quarters, high curbs, and structures or obstacles. A 44-hp engine, hydrostatic drum drive and maintenance-free Tier 4 Final emissions solution deliver high centrifugal forces and frequencies at lower RPMs, making the machine more fuel efficient. Standard features typically found in large-frame rollers further improve productivity and dial in performance to meet the specific compaction needs of the job.
Features
Purpose-Built Performance
Like all D Series CASE asphalt rollers, the DV36D features an overhang-free design with excellent curb clearance and both drums can be hydraulically offset to improve maneuverability and reduce the risk of tearing through turns. Each 51.2-inch drum delivers a centrifugal force of 11,240 lbf. and standard features include dual frequency (45 or 57 Hz) and amplitude settings, plus an automatic vibration control switch to help avoid surface damage during stops and starts. The water system is pressurized to maintain flow to all nozzles regardless of grade or wind, double filtered to reduce the risk of clogs, and features a large 92.5-gallon tank.


Common-Sense Fuel Efficiency
The DV36D uses a DOC system (Diesel Oxidation Catalyst) to achieve Tier 4 Final compliance, which provides efficient performance with no additional maintenance for the operator to worry about. There is no exhaust fluid to add and no regeneration downtime, simply operate as normal.


CASE Comfort & Visibility
With no overhangs on the front, back or sides, a low-profile hood and a lateral sliding seat, the DV36D makes it easy to see drum edges from either side of the machine whether operating in forward or reverse. Heavy-duty shock absorbers and the suspension seat minimize discomfort from vibration and a heated seat option is available. The drive lever moves with the seat providing constant control from any position and includes vibration and sprinkler switches so operators can keep their focus on the pavement.


Simple Serviceability
All D Series asphalt rollers are designed to simplify daily maintenance and service accessibility. The hood flips forward to expose the entire engine compartment, all fluid ports, drains, filters and checkpoints are grouped together on one side of the machine, and sprinkler heads are easy to reach for quick checks or replacement.
Brochures
Specifications
Engine Power

43.9 hp | 32.8 kW

Operating Weight

8,290 lb | 3 760 kg