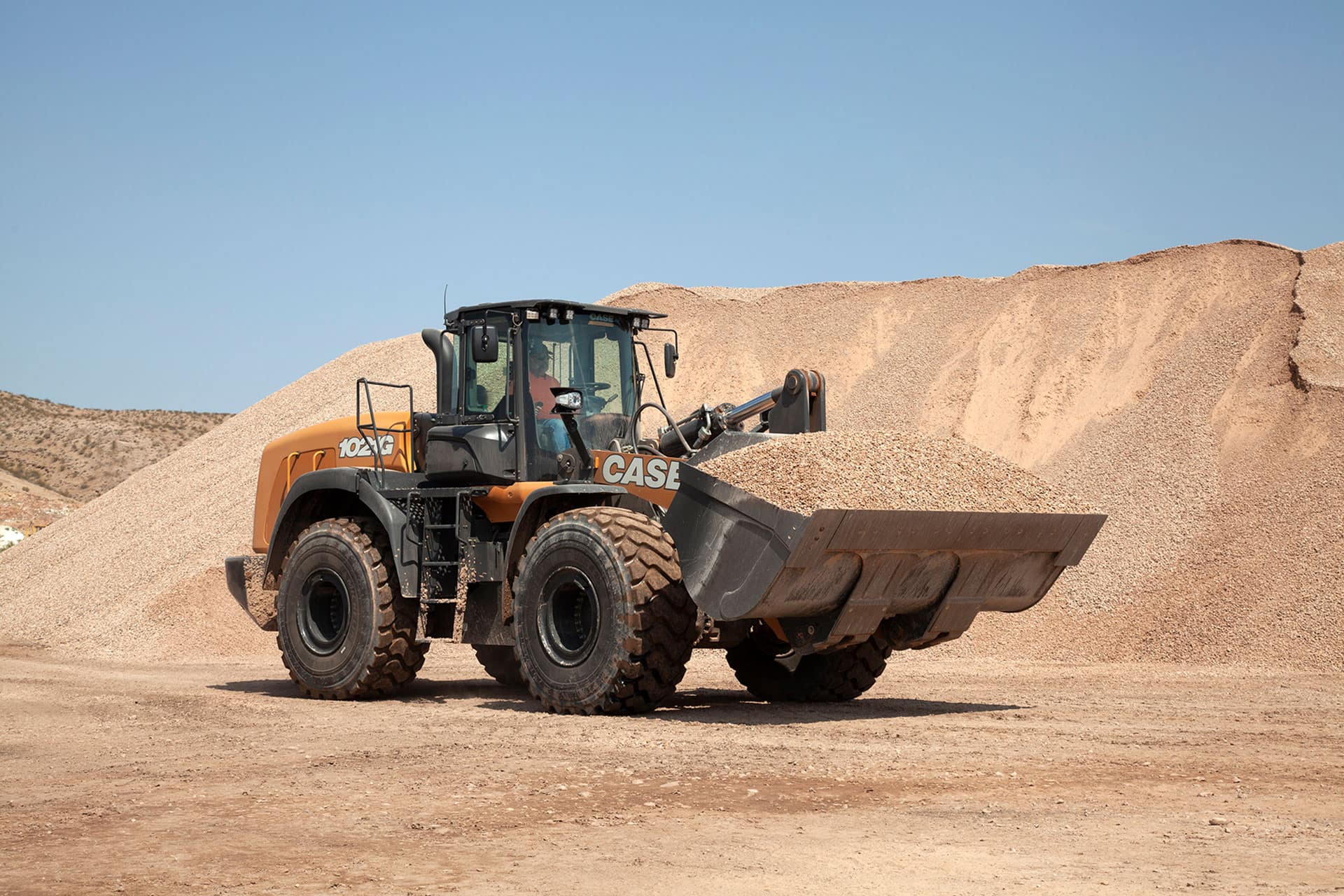 Overview
The CASE 1021G (318 horsepower (237 kW); 56,365 pounds) delivers speed and power for high-capacity production environments, and extremely powerful breakout forces and material handling capabilities for large-scale heavy construction — all while delivering excellent fuel efficiency without sacrificing any performance. With new adjustable electro-hydraulic controls, an all-new touchscreen display and all-new collaborative fleet management technologies, the 1021G delivers a powerful combination of productivity, efficiency and uptime — all protected by CASE ProCare.
Features
Exclusive CASE G Series Productivity, Efficiency & Performance
At the core of every CASE G Series wheel loader is power, fuel efficiency, and the comfortable and intuitive way the operator and the machine work together. The 1021G is powered by an FPT engine with patented selective catalytic reduction (SCR) emissions technology — there's no diesel particulate filter (DPF) and no regeneration. This creates greater fuel efficiency, keeps operating temperatures down and puts all working effort of the engine to the work. And standard Ride Control provides an extremely smooth ride with optimum material retention.
The CASE 1021G offers standard four-speed operation, and auto-locking front differentials and open/conventional rear differentials for consistent operation on packed/improved surfaces and consistent loading cycles.


Operation Made Even Easier
New enhancements to CASE G Series wheel loaders include new adjustable electro-hydraulic controls that allow the operator to independently set boom and bucket responsiveness to smooth, moderate or aggressive — the aggressive setting with the bucket function is ideal for topping off trucks and hoppers by finely feathering/metering in material. An all-new touchscreen display puts all core machine operating information and control within reach. Two simplified power modes — Smart and Max — let you work in the way that makes the most sense for your operation. And three new color-coded, configurable buttons on the armrest make three pre-set tasks, functions or settings as easy as the push of a button - all with minimal movement or distraction for the operator.
Watch Videos:
Ensure Greater Uptime
Anything can be connected. It's the ability to take action based on the information that connectivity provides that improves everything from fuel efficiency to productivity and uptime. Each new CASE G Series wheel loader comes connected with the all-new SiteConnect Module to improve telematics reporting (including additional parameters) and allow for critical functionality such as remote diagnostics and software updates. This provides a greater flow of information to business owners, fleet management personnel — and fleet management partners such as your local CASE dealer and CASE technical experts at the CASE Uptime Center.*
The connectivity of the SiteConnect Module also allows for new reporting and ticketing with the optional integrated payload system, and new reporting and features for the optional Tire Pressure Monitoring System (TPMS).
*When agreed to by the equipment owner
Watch Videos:
Improve Load Accuracy and Reporting
A new, optional, fully integrated payload system improves load accuracy and provides detailed real-time reporting (integrated in CASE SiteWatch telematics) for billing, tracking and operational performance. It helps prevent under- and over-loading of trucks, and ultimately results in faster cycle times with less hassle and wear and tear over time. And as it is integrated from the factory, the payload system is purpose-built for CASE G Series wheel loaders, is incorporated with the purchase/financing of the machine, and requires no installation time/aftermarket solutions. Please see more detail below.
Watch Video:
Work in Comfort
A spacious cab with standard heating and air conditioning and an adjustable workstation gives the operator the perfect vantage point and comfort to get more done. A sweeping single-pane windshield with extensive floor to ceiling glass, combined with an optional LED light package and optional rearview camera on the all-new touchscreen display (operable in all directions for greater awareness), gives the operator optimal visibility and confidence. And a standard Bluetooth radio provides operators the soundtrack to their workday.
The 1021G is also available with a standard premium heated seat, leather trim with an electronic auto-weight adjustment and dynamic dampening system.


Keep it Cool. Keep it Clean.
The CASE Cooling Cube provides direct access to fresh air for each cooler – nothing is stacked – and features a programmable, hydraulically driven reversible fan that helps prevent buildup and makes it easy to clean out debris.


Peak Groundline Serviceability
CASE G Series wheel loaders provide easy access to the engine compartment for excellent groundline serviceability. All major regular service points, including HVAC system filters and components, can be accessed from ground level — and remote drain ports are standard.


PROTECTED BY CASE PROCARE
Each CASE G Series wheel loader provides peace of mind and controlled owning and operating expenses with ProCare:
Three-year, 3,000-hour full-machine factory warranty
Three-year, 2,000-hour planned maintenance contract
Three-year CASE SiteWatch™ telematics subscription
Specifications
Engine Power

318 hp | 237 kW

Operating Weight

56,365 lb | 25 567 kg